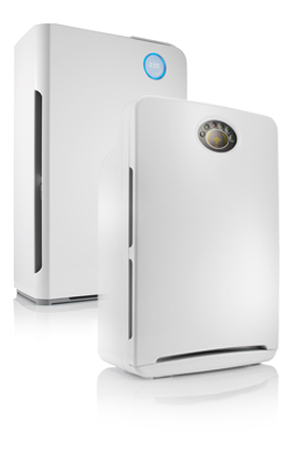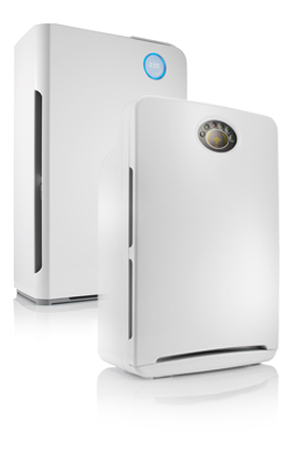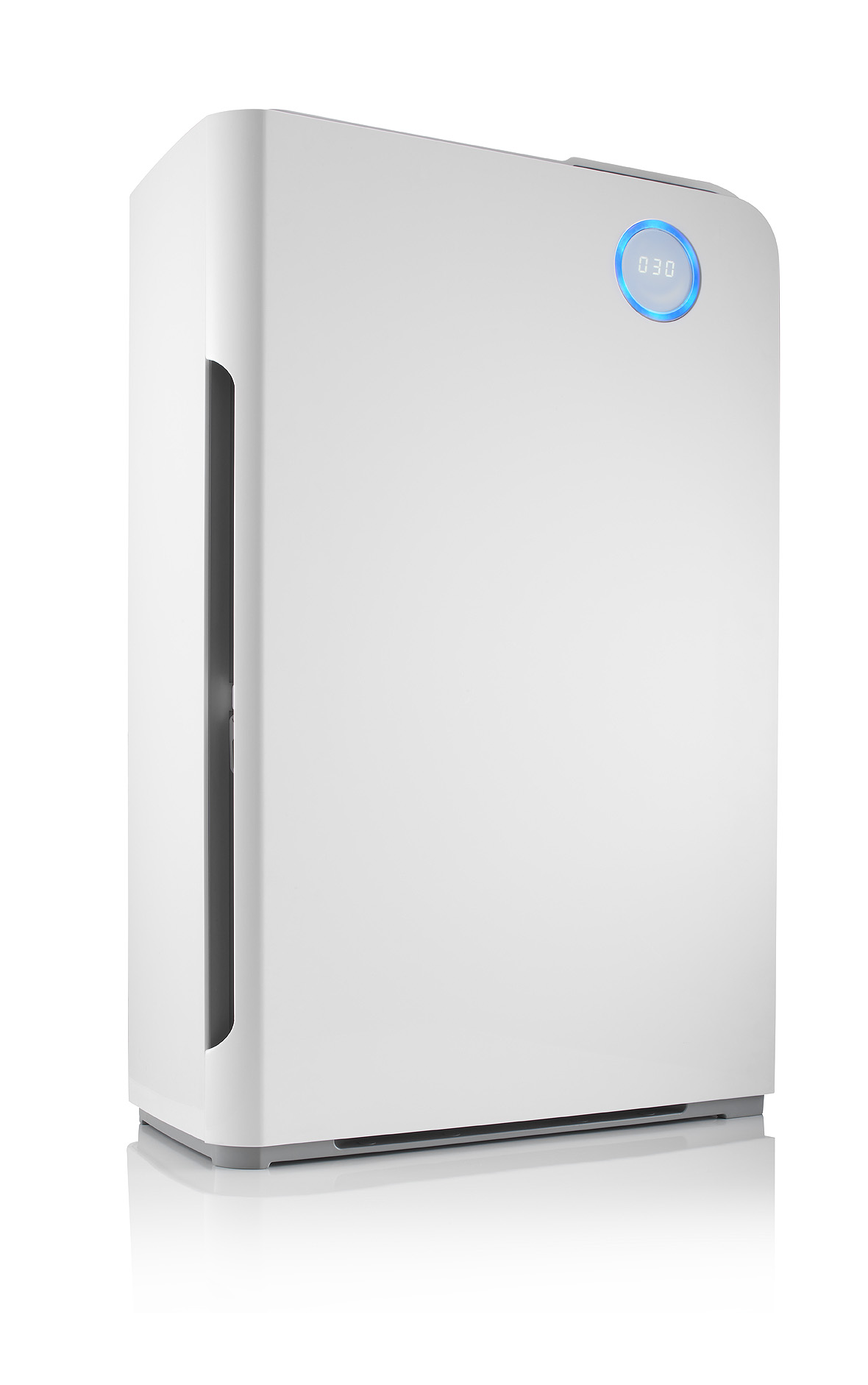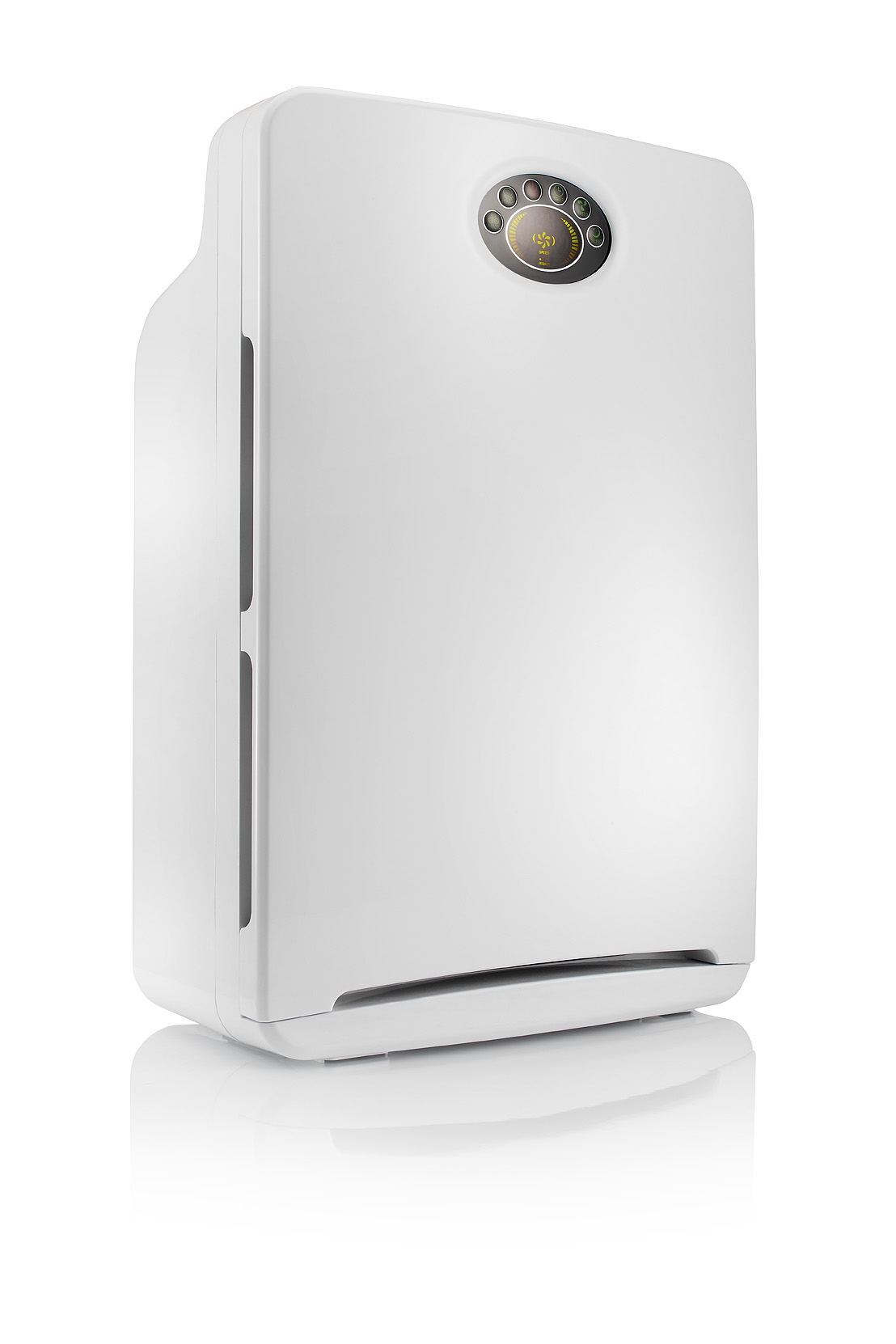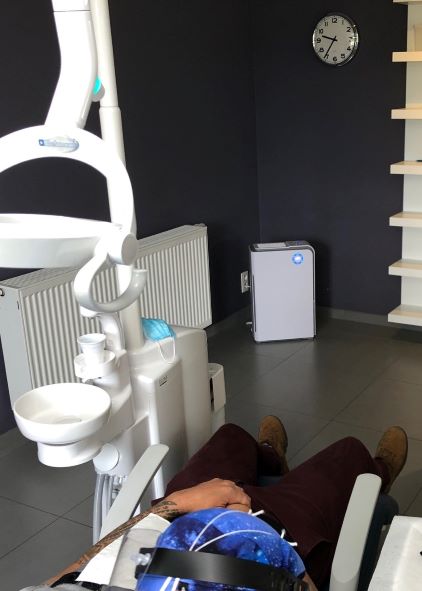 ---
Product features :
Treated area : 80 m²

Medical grade HEPA 13 filter : YES

HEPA means High Efficiency Particulate Matter, able to filter 99,95% of fine particles as small as 0,1 micron. Filters bacteria and some virus


Treated air volume/hour (CADR) : 320 m³/h

Photo-catalysis : Yes with UV lamp

Breaks down biological and chemical pollutants into water vapor and carbon dioxide


Activated carbon filter : Yes

Porous structure with high absorption power which fixes and retains VOCs and odors.


PM 2.5 Laser sensor auto-detection : Oui

Air quality indicator : Yes

Counter and color


Child lock : Oui

Formaldehyde decomposition rate : 98%

Oxidation and decomposition into water vapor and carbon dioxide


Filter change indicator : Oui
---
Description
Our professionnal pack has been designed especially for our business customers looking for an offer covering most of their needs.
Our maxim is : Protect yourself while safeguarding your patients's health !
Pollution, bacterias, odors, fine particles, our purifiers will clean the doctor's office as well as the waiting room.
This pack is the combination of two great purifiers with distinctives and complementary features, one the Office and one of the waiting room.
Pollutants and particles will be removed from the air and captured with our efficient hepa and activated carbon filters.
The A&S 300 Premium
Our most advanced purifier available within our AIR ET SANTÉ range, highly complete and efficient.
Its four speed levels powered with a German electrical engine will allow you to filter 320m3 per hour in order to sanitize a maximum surface up to 80m2. Managed by a laser sensor it accurately detects the fine particle level in your environment to automatically purify it.
The air will pass through a multi layer filtering system:
First the pre-filter will protect the all system in removing the large particles that could caulk the main filter.
The second filter, the true HEPA medical grade filter will filter the air, retaining with an efficiency of 99,95% fine particles as small as 0,3 microns.
HEPA Stands for High Efficiency Particulate Air. It filters fine particles bigger than 0.1 microns.
The third filter, the activated carbon filter. Treated with oxygen which opens up millions of small pores it will absorb Volatile organic compound (VOCs) such as gases, chemical fumes, odors.
370 grams of activated carbon will have an effective surface of 243 000 m2.
These VOCs are often emitted by furniture, paints, some building materials and maintenance products such as aerosols.
There is also two other functions added on the A&S 300 Premium air purifier, whose activation is done according the to wishes of our users:
The Photocatalyse function, with its system of two UV lamps, is a process that consists of degrading 99% of bacteria in the air into water vapor.
The Ionizer function, by using a natural principle which negatively charges the pollutants present in the air to make them fall to the ground which consists in destroying the fine particles present in the air of your interior by transforming them into dust.
The A&S 300 Premium Air Purifier also has :
A night mode which reduces the noise to the minimum, lock it and dimm the light emitted by the device.
Child security that disables programming button.
The Premium Air Purifier will be your ally to reduce bacteria transmission, against allergies, pollen allergies as well as animal hair allergies but also helping you fighting against asthma and bacterial disease.
Knowing that the indoor air is two to eight times more polluted than the outside, the Air and Health Premium air purifier is the perfect partner to improve your health and well-being on a daily basis.
The A&S 300 Premium is a purifier well suited for a classic waiting room.
The A&S 100 Eco
Our value offer within the AIR ET SANTÉ range, even fairly small this purifier is actually efficient, it detects automatically the odors and adjust the air purification accordingly.
It helps fighting against:
Bacteria, some viruses.
Indoor odors.
Pollution.
Respiratory allergies.
Allergies to animal dander and hairs.
Asthma.
This air purifier is a Multi layer of three filters, a cold catalyst and a ionizer.
The pre filter stops big dust to protect the filtration system.
The HEPA filter stands for High Efficiency Particulate Arresting filters. It's a filter designed to capture small airborne particles that are less than 10 microns and and catch also ultra small particles as small as 0,1 micrometers.
The HEPA 13 we are using traps 99,95% of the ultra fine particles PM 2.5, smaller than two and a half microns in width, therefore 40 fine particles could be placed on a humain hair width.
The activated carbon filter will absorb Volatile Organic Compound (VOC) which are gases, odors, chemicals...
The A&S 100 Eco air purifier is also equipped with a cold catalyst system and an ionizer, natural principle that negatively charges pollutants in the air to make them fall to the ground you can switch it on or off according your need and feeling. The cold catalyst and the UV lamp turn the last airborne pollutants into carbon dioxide and water vapor.
The ionizer function works with a negative ion emitters, these ions aggregates to the pollutants and make them fall to the ground
The A&S 100 Eco air purifier is well suited for Doctors'offices it will sanitize a maximum surface of 40 m² and it treats 186 m3 of air per hour.
Technical features
Treated surface
80 m²
Filters included
YES
Filter type
Filter type medical grade HEPA H13 Filter,
Activated carbon filter
Negative ions emetter
YES
Photocatalyse
YES with two UV lamps degrading at 99% bactérias
Night mode
YES it will dim the panel lights and reduces to the minimun and lock the noise of the air purifier
Clean Air Delivery Rate (CADR)
320 m³/h
Sound level
18 db in normal mode / 58 dB in intense mode
Sizes (mm)
625H x 406L x 188E
Weight
9.92 kg
Motor
German
User manual to download
download A&S 300 / download A&S 100
CE Certificate
download A&S 300 / download A&S 100
Advices & Services
The delivery of the A&S 300 Premium and A&S 100 Eco air purifier is done in "Plug and Play" mode, as soon as you receive the device you can connect it, switch it on and it will automatically begin to filter the air of your interior.
Programmed on automatic mode, a red light indicates when the purifier is in action and treating and sanitizing your indoor air
A green light indicates when it is in standby and that the air of your interior is clean.
A third indicator light tells you when you need to change the filters. Depending on your usage and your environment, it can light up between 6 and 12 months. You can acquire the Premium Air Purifier filter pack, as well as the two UV lamp packs according to your needs.